Overview & Managing of Self (Learner) Profile
When you log in to the Skill Lake platform with learning permissions, you will navigate to the Learning Home page. Click on your profile picture on the top right to access the profile page.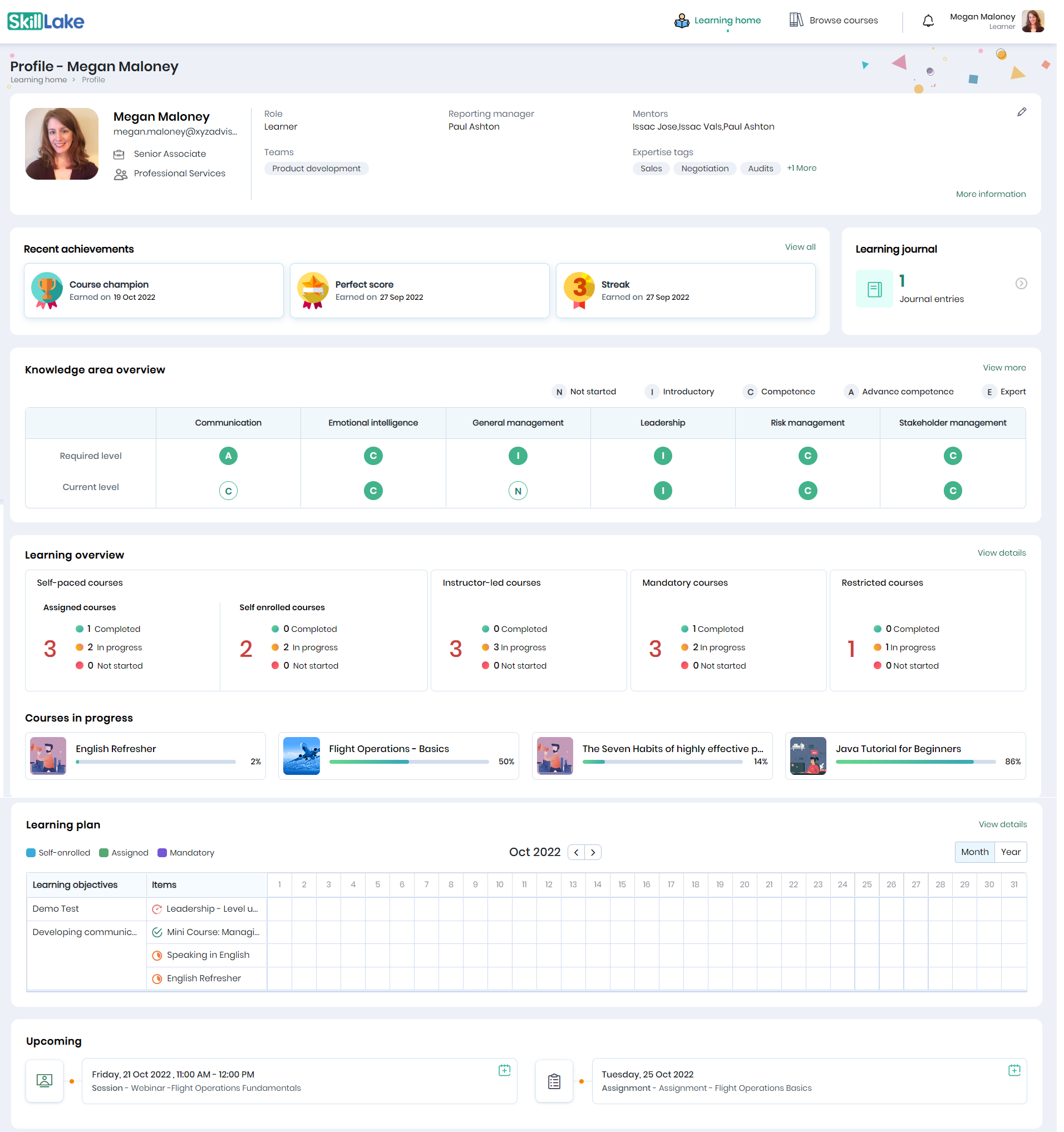 Profile
The profile page includes multiple sections, starting with the Profile details on top, followed by Achievements, Learning Journal, Knowledge Area Overview, Learning Overview, Courses in Progress, Learning Plan, and Upcoming Sessions.

The Learner's Profile includes:
Name, Email Id, Designation, Department, and Profile Picture
User role, Team Name, Reporting Manager, Mentors, and Expertise tags (tags allow the learner to be identified for specific technical expertise) of the learner.
Click on the More Information link to view the Managing Team and Profile Summary
Achievements
The Achievements section includes.
Badges and Certificates the learner has achieved
Click on the View All link in the Achievements section to view the complete set of achievements of the learner on the platform.
Learning Journal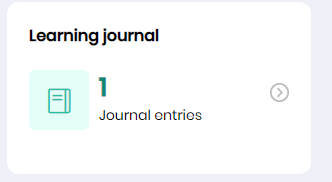 The Learning Journal entries of this learner will be displayed. Click on the right arrow to view the journal entries of this learner in the Learning Journal page.
Knowledge Area Overview

The Knowledge area overview section includes:
A tabular view of all the Knowledge Areas applicable for the learner in his current role/job title.
Under each Knowledge Area, the required/expected level and the current level of the learner are indicated.
Click on the View more link to display the detailed view of the Knowledge areas of the learners.
Learning Overview

The Learning overview section displays a summary of the course enrollments and their status for Self-paced, Instructor-led, Mandatory courses, and Restricted courses. In the Self-paced courses section, the learner can view the assigned and self-enrolled course details.
The Courses in progress section provides course cards for the most recently accessed courses with details like the course name and course completion percentage.
Click on the View details link in the Learning overview section to navigate to the Learning Overview details page.
Learning Plan
The Learning Plan section gives a calendar view of the learning objectives and corresponding items (courses/activities) for the chosen period. Mentors can create the learning objectives and assign courses/activities that will assist the learner in achieving those objectives. The learner may also have permission to add learning objectives for themselves and self-assign courses/activities.

The plan objectives and items that have to be completed in the current month are displayed. The self-enrolled, assigned, and mandatory courses are marked in blue, green, and violet colours, respectively in the learning plan.
Upcoming activities

On the learner profile page, scroll down to view the upcoming activities for the learner. Click on the '+' Calendar icon to add the session to your calendar.