Enhance People Development in Your Automotive Company With Our LXP
The automotive industry faces many challenges in training its workforce, especially when they are geographically distributed. To prepare such a diverse workforce with varied learning goals, automotive companies require an LMS with added benefits of a learning experience platform to keep employees connected and up-to-date with personalized content.
Skill Lake is a learning experience platform tailored for automotive training with exclusive course curation and course recommendations for employees based on their learning curves. This LXP is topped with all the features needed for an automotive company, such as course mentoring, personalized learning paths, mobile learning, gamification, feedback systems, competency mapping, holistic dashboards, and more. Skill Lake can contribute to the success of your automotive company through simple yet smart people development approaches.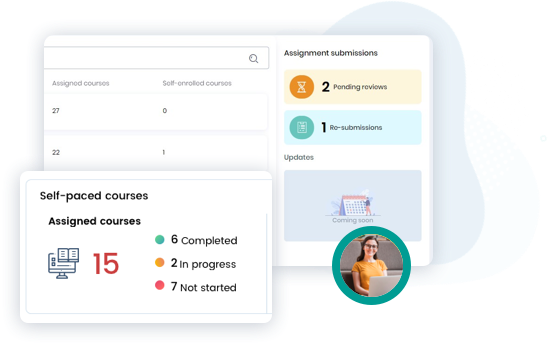 Skill Lake is Beyond an Automotive LMS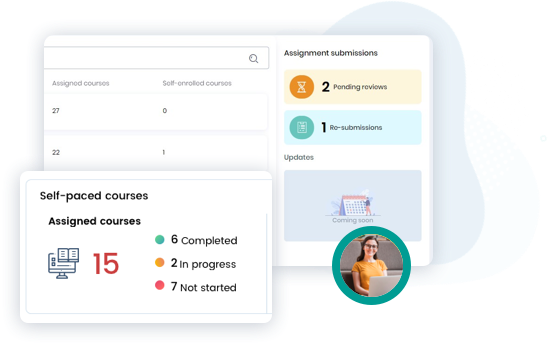 Competency Management & Tracking
Define a learning plan for every individual to train them on a set of relevant activities for the automotive sector, in order to gain specific industry knowledge.
Identify skill gaps across various roles based on reports and initiate the necessary training required.
Measure the competency levels of employees through graded assessments to identify their skill sets.
Get a holistic view of employees' capabilities who possess a particular set of skills or suit specific jobs in the automotive sector.

Diverse Workforce Management
Leverage specialized knowledge or provide extra support on automotive-related subjects by assigning mentors or coaches.
Learners can choose different learning modes i.e., self-paced or instructor-led learning based on the complexity of the courses and their convenience.
Training can be scheduled and assigned through personalized learning journeys catered to specific needs.
Learning materials can be disseminated to learners anytime, anywhere and from any device through a centralized content delivery system.

Maximum Learner Engagement
Support visually appealing content to give employees a feel of the real working environment and a thorough understanding of machinery handling.
Graphical illustrations can be organized in Skill Lake LMS to understand how to rightly adhere to the operating and safety norms in the automotive industry.
Upload courses developed by automotive experts on types of equipment and machinery to provide deep knowledge of the working of machines.
Craft training courses with gamification and interesting elements to boost employee engagement and maximize knowledge retention.

Adhere to Industry Changes and Trends
Always stay on top of the latest happenings in the automotive industry, compliance guidelines, and regulations through easy content updating.
Create a competitive edge through efficient and well-informed employees and dealers through the regular and fresh content feed.
A one-time content feed is enough to educate your employees across the globe on the latest industry changes and norms, saving your time and effort.
Improve workplace safety and reduce the number of injuries through corporate training programs and compliance training.

Quick to Deploy & Easy to Use
Easy to deploy on private servers or the cloud, based on your enterprise IT specifications and get started as soon as possible.
User-friendly interface and frictionless navigation to enable smooth interactions for non-technical users as well.
Enhanced security features including role-based controls, SSO, and other authentications that comply with your organization's security standards.
Integrate with other applications you already use and easily customize to suit your brand, organizational structure, and processes.

Product and Process Training
Skill Lake hosts relevant training for automotive industries like product training, process training, and soft skill training.
Delivers content across the organization steadily and speedily, and define roadmaps to ensure employees are right on track.
Hosts custom content for understanding the basics of product and process training, for ensuring in-depth training to employees at all hierarchical levels.
Manage automotive safety training for employees working at the manufacturing centers or sales training for sales managers and other executives.
Key Features of Skill Lake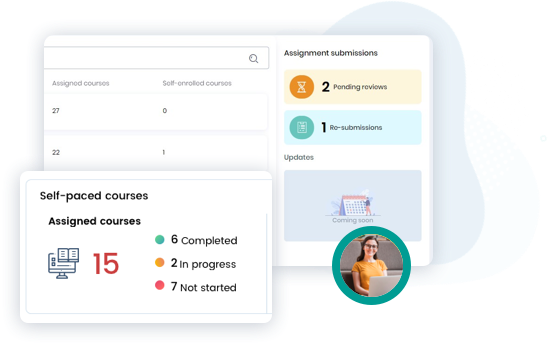 Easy-to-use
Clean and intuitive interface of Skill Lake helps anyone get familiar with the platform real quick.

Fast Setup
Skill Lake can be readily hosted on a private server or the cloud and get your learning platform up for training in minutes.

Progress Tracking
Tracks training activities, learning progressions, and success rate of training programs based on course completions, assessment results, and content access through insightful reports.

Mobile Access
Trains employees wherever they are, and whatever their roles are, with no limitations, including access to learning materials through Skill Lake's intuitive mobile application.

Virtual Mentoring
Guide employees in their learning journey with specialized mentors or professionals who can provide the relevant guidance and support.

Gamification
Boosts employee engagement and learning through achievements, points, leaderboards, and badges based on employee activities, building healthy competition among peers.

Learning Modes
Provides hassle-free online automotive training through self-paced, instructor-led, and hybrid, regardless of whether your employee connects from desks, floor, or road.

Course Library
Create and organize learning materials in a single repository to help employees easily access and refer them at any time from any location when needed.

Competency Tracking
Define competency goals and measure the performance level of learners and guide them through a detailed learning plan.

Microlearning Options
Deliver automotive-based content in short, bite-sized versions to help your employees quickly grasp and understand the concepts.

SCORM Compliant LMS
Through the hassle-free upload, management, and delivery of SCORM content, organizations can seamlessly meet their learning & development goals through Skill Lake. We support courses that are compliant with the widely accepted SCORM standards—SCORM 1.2 and SCORM 2004.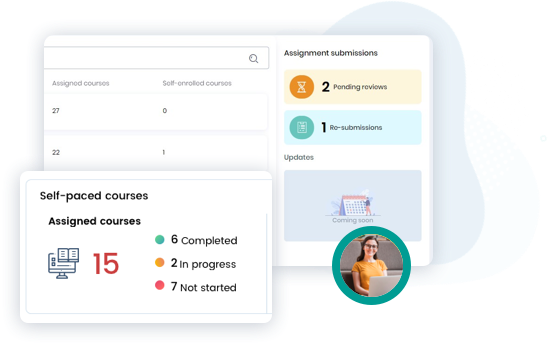 Hear what our Customers are Saying
Skill Lake is so easy to use. The interface is plain and anyone can learn it in a snap. Creating courses and assigning them to users was easy. Gamify elements like virtual rewards and certificate badges did actually motivate our employees to complete their training faster. Mobile accessibility is also an added bonus. We're able to deploy Skill Lake real quick and customize it for our company processes without hassles.
Five Brothers
Asset Management Solutions
Deploying Skill Lake was the best decision we've made. It was a real breakthrough in course enrollment and delivery of training for specialized and complex procedures such as those in boiler and plant operations. It's an easy-to-use platform that makes it easy to create and assign courses, track progress, and mentor each learner personally. What was so distinct about Skill Lake is that it combines a feature-rich LMS and CRM that greatly reduced the amount of manual work and time we spent earlier.
The Training Center
Boiler & Plant Operations Training
Revamp your Legacy Training Content into Highly Impactful Learning Materials
Are your course materials in need of a makeover? Does it look outdated? We can help modernize your current training content into a format of your choice that's deeply engaging and useful.
Provide your training manuals, course materials, or guides and the required format.
Our team analyzes your requirements and provides you with an estimate.
Further, our team enriches your learning materials to desired multiple content formats- from videos to presentations, motion graphics, ppt, pdf, AR/VR, etc.
Finally, upload your content to Skill Lake and distribute it among your employees.
Enrich your training programs by efficiently designing engaging and impactful course materials at scale with this add-on service of content modernization.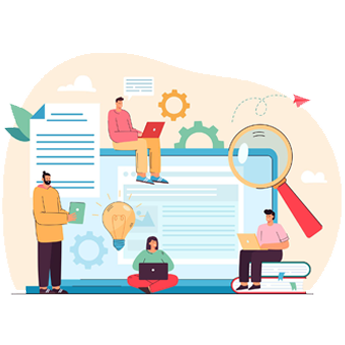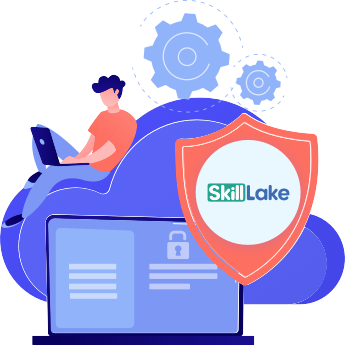 Step up Your Automotive Training with Skill Lake
Provide personalized employee training across every aspect of automotive, irrespective of their geographic locations, with the best-in-class LXP.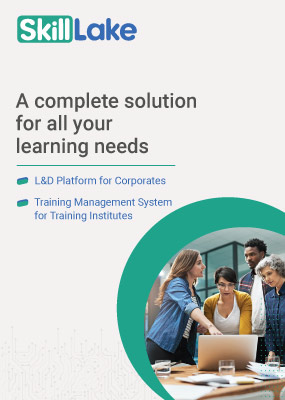 Download Skill Lake Brochure Now!
Explore the new-age learning experience platform for seamless end-to-end training and learning initiatives, and deliver personalized learning journeys for every user.