Tips for Choosing the Right Corporate Training Platform for your Business

LMS solutions assist your business in better training employees and actively engaging them. The right corporate training platform can provide you with the desired results and assist you in reaching your business objectives.
In 2020, the eLearning Market surpassed 250 billion USD and was predicted to grow at a CAGR of more than 21% between 2021 and 2027. With this accelerated rate, it is clear that businesses gain a plethora of advantages from implementing an efficient LMS. Many organizations have already jumped on the LMS bandwagon, enrolling 80,000 personnel in a web-based LMS course.
Read more: Effective Training For Your Remote Workforce – The Guide
Here's a quick rundown of some convincing reasons why an LMS is necessary for a successful business: 
Ensures staff receives adequate training required to assist them in performing efficiently.
Thorough data and analytics tracking to ensure the quality of training.
Reduces staff attrition.
Helps craft courses, set assessments and assignments, and automate the onboarding process.
Ensures successful onboarding.
Provides better ROI.
Lowers employee travel expenses.
Create a personalized learning journey for employees to sharpen their skills and knowledge.
Calculates allocated resources and identifies existing inefficiencies in training.
 Improves employees' intellectual capital, thereby resulting in better productivity.
What is a Corporate LMS?
A corporate learning management system (LMS) provides a platform to host online training and store all training resources within a single repository. In some ways, it acts similar to business intranets. However, these platforms focus on learning and development, information storage, and sharing rather than being a general-purpose platform for sharing and collaborating. 
Corporate learning management systems assist businesses in organizing, tracking, and managing training initiatives for the benefit of workers, customers, and other external partners. Such corporate training platforms offer specialized training programs for onboarding, development, and compliance. Companies use a corporate LMS to assign courses to employees or external end-users and track learners' progress as they complete course sessions and evaluations. Corporate LMS functions as a centralized repository of learning materials for employees and administrators, allowing organizations to distribute content for staff development and customer training. LMS platforms for companies can help businesses streamline their procedures and are critical to boosting business growth.
Read more: Tips on L&D in Hybrid Work Culture in the Post-pandemic Corporate World
Distinction Between a Corporate LMS and an Academic LMS
An academic LMS is particularly beneficial in a classroom with faculty and students. In contrast, a corporate training platform is more effective for professional development. Many elements of corporate LMS are effective for job training or other sorts of corporate learnings. They often emphasize the delivery of online eLearning courses and tools for training the workforce in developing job skills and competencies or training paths for specific skills.
Furthermore, eLearning platforms for companies frequently provide options for employees to access training in addition to the ones allocated to them, allowing employees to autonomously discover more information about their employment or alternative jobs they might be interested in.
Before we get into the differences, it is essential to mention that both academic LMS and corporate LMS have some similar characteristics, such as:
Making educational and/or training resources available online
Content authoring tools for creating and managing learning materials
Automating and/or simplifying many components of the education and training processes, such as course registrations, and assignments, sending alerts to learners, tracking training success, analysis, and more.
Corporate LMS vs. Academic LMS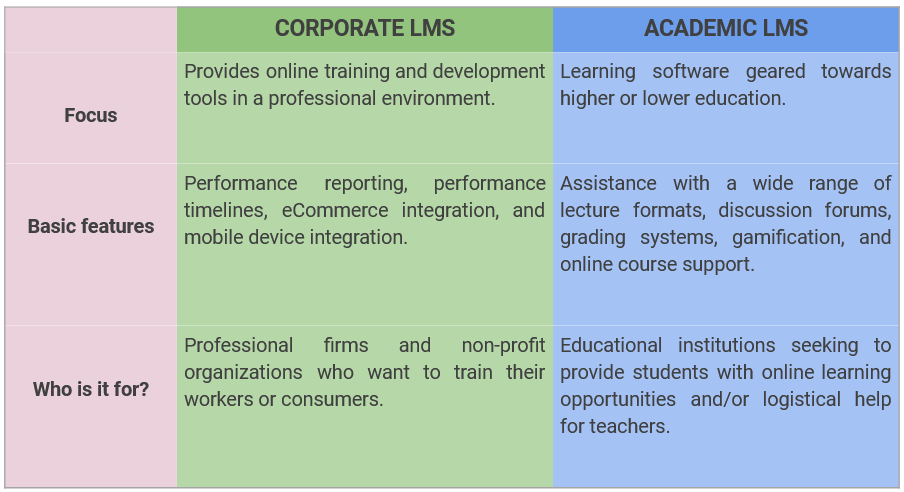 Top features to look for in a Corporate LMSs
Corporate eLearning platforms can provide numerous benefits to your business. As a result, selecting one out of the available corporate learning management systems is critical! Here is a list of corporate LMS features and characteristics to consider when choosing the right corporate training platform out of the offerings from top LMS companies:
1. Accessibility – A corporate LMS should be accessible at all times and from any location. This feature allows employees to access training whenever they want without coordinating time and dates as with traditional training. In addition, the ability to access training material on-demand provides learners with flexible learning options.
2. Integration- A good LMS should be capable of integrating seamlessly with other corporate systems. For example, whatever data you save in your LMS system should sync with other systems used by your firm.
3. Accountability – A corporate LMS should be able to track the trainee's learning progress and deliver reports and records for additional reviews. It helps the management to keep track of all training progress on a single platform and find the top talents.
4. Gamification – Your online training system must be capable of engaging employees and motivating them to perform better. In an ideal world, internal motivation would suffice. However, many employees need a gentle prod to get them to participate in training. Gamification motivates them to participate and set their sights on the prize.
5. Mobile learning – Your learners should be able to access their training information whenever and wherever they want from any device. Mobile access is required to facilitate continuous learning.
6. Certification and rewards – Course completion certificates help recognize and reward your learners' accomplishments. This motivates the learners and ensures they attend subsequent courses enthusiastically.
7. Social learning – With the rise of remote learning, it is critical to incorporate some interacting social components into your training. For example, users should be able to ask questions, offer feedback and ideas, communicate with peers, and participate in conversations on a corporate training platform.
8. Learner and user feedback – Learner and user feedback are critical for an LMS to function smoothly and effectively. Therefore, a corporate LMS must enable learners and users to provide feedback on training programs, enabling firms to continuously improve their training and provide more relevant and effective courses.
9. Built-in content authoring – One of corporate LMS's essential functions is the ability to create training materials. It could be client product guides or instruction pamphlets. Your system must have the ability to develop content from both technical and layman's perspectives. Therefore, looking for the best corporate LMS with authoring tools integrated with asset libraries, templates, and other critical content development elements is imperative.
10. Enterprise IT readiness – Corporate training platforms should run on private servers or the cloud. Furthermore, the corporate eLearning platform must support SSO and role-based controls and adhere to organizational security standards.
Read more: Debunking Five Popular Myths about Corporate eLearning
Skill Lake fits the requirements for being the right choice for a business's total development. With the constantly growing technology, learning is no longer limited to rolling out courses without making it personalized and interactive enough for learners to participate actively. Skill Lake was created with the intent to hold the attention of the coming generations by offering interactive learning, competency management, instant feedback, gamification, and more.
Skill Lake is one of those platforms that creates a culture of continuous learning and growth through – accountability, cooperation, and personalization. Skill Lake outperforms the competition by enabling organizations to realize the benefits of well-trained staff. Additionally, Skill Lake enables the development and modification of learning based on success data and changes in corporate strategy.
Skill Lake allows companies to create an employee-centric learning culture. It provides self-paced learning facilities and better knowledge retention with multiple modes of access.
With Skill Lake, you can learn anywhere, anytime, using any convenient device. In addition, this platform offers a personalized learning roadmap to all participants with timely feedback and corrective measures from assigned mentors.
Getting access to engaging learning and competency management options was never as easy.
So contact us today to see how Skill Lake can help you change your organization's learning culture for the better.
Build a culture of continuous learning with Skill Lake's state-of-the-art people development platform. Give your employees professional training to help them excel in their job roles and propel your business to greater efficiency and success.
Start Today