Top 5 Learning and Development Trends for 2024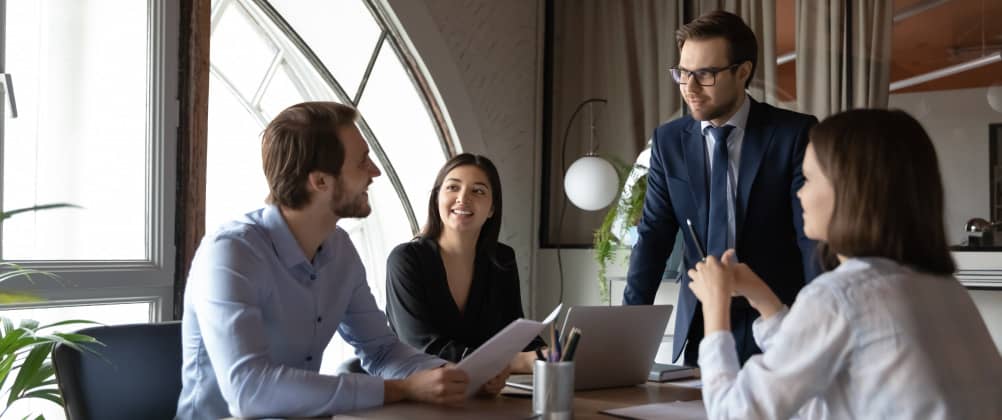 The future of work is undeniably centered around skills, a reality made even more evident by the global pandemic. While the importance of digital skills has been underscored, there's also a growing recognition of the value of adaptable and learning-agile individuals in the workforce.
In addition to these evolving skill requirements, the rapid advancement of AI and technology, coupled with a competitive labor market, has made it abundantly clear that companies must prioritize investing in the development and training of their employees.
As we delve into Learning and Development trends for 2024, it becomes evident that to remain competitive, businesses must gain a profound understanding of the current state of L&D. Understanding corporate learning and development strategy helps businesses to plan effective training programs that align with the evolving needs of the workforce and the demands of the modern workplace. 
In this blog, we will discuss learning and development strategy and trends for 2024  in detail.
The Crucial Role of Learning and Development
Organizations should align their rate of adaptation with the rapidly changing external landscape to engage Gen Z talent effectively. This necessitates the creation of comprehensive training and leadership initiatives that genuinely prioritize diversity and inclusion.
According to LinkedIn Workplace Learning Report 2019,  Companies are not the only ones who value training. 94% of employees say that they would stay at a company longer if there is investment in their learning and development. 
Key Learning and Development Trends for 2024.
When implementing Learning and Development (L&D) initiatives, organizations must determine the training domain and the frequency of training delivery. Another crucial factor for organizations to consider is employees' preferred learning methods. As remote and virtual learning options continue to expand, employees now have a multitude of learning avenues available. The most favored among employees are online/self-paced courses.
Now, let us get into the key learning and development trends in detail: 
Continuous Learning for Organizational Agility
The focus on organizational agility has intensified, driven by the need to adapt to market disruptions swiftly. Recent insights from a Deloitte survey revealed that 85% of business executives actively seek more agile approaches.
The key to enhancing organizational agility is fostering a continuous learning culture. Learning and development strategy examples include training, employee engagement activities, and more. Training empowers employees to swiftly grasp new situations and respond effectively to the changing dynamics of the business world.
Learning and Development (L&D) teams play a pivotal role in this transformation by providing fresh learning opportunities and ensuring that training materials remain current, aligning with immediate organizational needs and broader market conditions.
The embrace of organizational agility yields significant advantages to companies and their workforce. Companies gain the competencies needed to thrive in challenging market scenarios, while employees access valuable training opportunities and acquire new skills that enhance their future career prospects.
Upskilling and Reskilling
In response to the ever-evolving demands of the modern workforce, organizations of all types and sizes continue to prioritize upskilling and reskilling efforts. 
According to LinkedIn, a survey of L&D professionals reveals that 89% believe cultivating employee skills is instrumental in helping organizations navigate the uncertain future of work. This endeavor is particularly critical as specific skills have become important, including management, communication, customer service, and leadership.
A noteworthy trend emerging in the business world is the growing adoption of skill-based approaches to talent management. This strategic shift strongly emphasizes skills rather than specific job roles, ensuring that employees possess the cutting-edge competencies necessary for success.
Furthermore, organizations are increasingly embracing best practices from product development and applying them more broadly. This involves forming project teams focusing on task execution moving away from traditional business unit and department structures.
A significant majority of employees share the enthusiasm for continuous learning and acquiring new skills. A report by PwC titled "Workforce of the Future" revealed that 74% of workers desire to develop their skills to remain employable.
To further bolster their skill-building endeavors, organizations can implement recognition or incentive programs that reward employees for their active participation in developing their skill sets.
Employee-centric Learning Experiences 
The success of an organization's Learning and Development (L&D) initiatives fundamentally relies on the collective achievement of individual employee learning journeys. By placing employees at the core and optimizing each learning experience, businesses can significantly enhance the effectiveness of their training programs, bringing them closer to their overarching goals.
This principle forms the bedrock of an employee-centric learning culture, focusing on nurturing individual growth to propel the organization forward. Organizations are encouraged to meticulously scrutinize the entire learning journey of each employee, spanning from their initial onboarding to their eventual exit, all to maximize their learning experience.
To successfully deliver employee-centric learning experiences, businesses must invest time and effort in understanding each employee persona comprehensively. This entails delving into their distinct learning preferences, career aspirations, and the potential contributions they can make to the organization.
Wellbeing Programs and Mental Health Support
The challenges of maintaining a healthy work-life balance have left many employees grappling with fatigue and burnout, ultimately leading to diminished performance, increased absenteeism, and even resignations. In response, forward-thinking businesses are proactively addressing these issues by implementing wellbeing programs and specialized training initiatives designed to empower employees in navigating the demands of the modern workplace.
Recognizing the need to support their workforce's mental health and overall wellbeing, organizations are extending their development opportunities beyond traditional complex or technical skills. These programs now encompass essential skills such as stress management, cultivating a positive mindset, practicing mindfulness, and refining time management abilities. Equipping employees with these crucial skills enables them to function effectively despite workplace pressures, reducing the risk of feeling overwhelmed.
Furthermore, some organizations are taking an extra step by investing in dedicated wellbeing spaces within the workplace, offering employees a sanctuary to decompress, recharge, or engage in mindfulness exercises. Although these investments may appear challenging for some, the positive outcomes of successful wellbeing programs are undeniable. They encompass improved motivation and productivity, reduced absenteeism, heightened job satisfaction, an enhanced company reputation that aids in the hiring process, and increased staff retention, ultimately contributing to a healthier and more resilient workforce.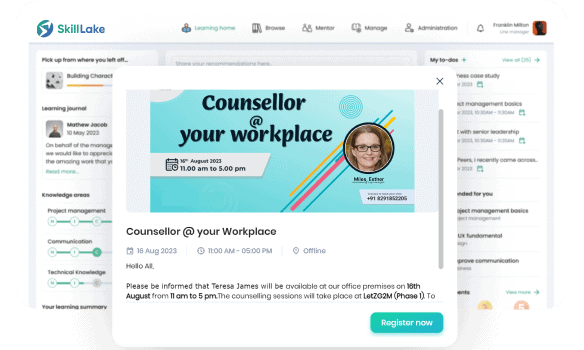 In the realm of Learning and Development (L&D) trends, Learning Management Systems (LMS) play a pivotal role by offering a host of valuable features and benefits. A contemporary LMS is a centralized hub for storing and organizing learning materials, ensuring accessibility, and accommodating diverse content types, from videos to interactive elements. Furthermore, it empowers organizations to customize and adapt learning experiences, tailoring them to individual learners' specific needs and goals while fostering engagement and collaboration through gamification and social features. Notably, a robust LMS provides measurable insights, tracking learner performance and behaviors aiding in program evaluation. Its cost-effective scalability eliminates physical constraints, while its capacity to integrate innovative technologies and methodologies future-proofs learning initiatives enabling organizations to stay at the forefront of evolving learning trends. Ultimately, LMS serves as a cornerstone in crafting agile, efficient, and effective learning experiences in the ever-evolving landscape of Learning and Development.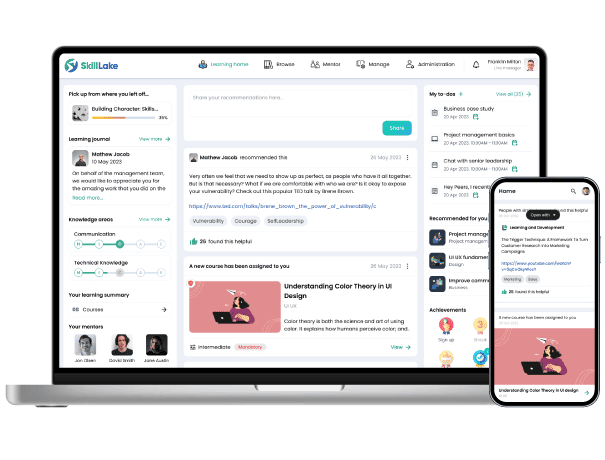 Why is Skill Lake an Ideal LMS for learning and development? 
Skill Lake's AI-enabled Learning Management System (LMS) is ideal for modern organizations seeking an advanced online employee training platform. It offers personalized, accountable, and comprehensive learning experiences beyond traditional LMS systems. With Skill Lake, organizations can create a continuous learning and growth culture, fostering accountability, cooperation, and personalization. It empowers learners to develop skills and competencies directly impacting their job performance, effectively converting learning into actionable results. The platform encourages social and collaborative learning, inspires personalized learning paths, and provides various learning delivery options. Skill Lake's commitment to learning accountability, microlearning, flexibility, and hands-on training sets it apart. It is a compelling choice for organizations aiming to transform their workforce into future-ready, knowledgeable, and adaptable employees. Skill Lake's AI LMS offers a holistic and innovative approach to learning and development, addressing the evolving needs of organizations in today's fast-paced business landscape.
Conclusion
The rapid pace of technological advancement and the fiercely competitive job market compel organizations to invest substantially in employee development and training. This imperative arises from several key factors. Technological innovations constantly reshape industries, necessitating organizations to effectively equip their employees with the skills to harness these advancements. Failure to do so can render businesses obsolete in a swiftly evolving business landscape. Furthermore, attracting and retaining skilled professionals is a significant challenge in today's highly competitive job market. Companies that invest in employee growth and development not only draw top talent but also retain it, while those neglecting such investments risk losing their most valuable assets. Adapting Learning and Development (L&D) strategies to align with evolving workforce needs and workplace demands has become essential for organizational survival in the dynamic modern business world.
Build a culture of continuous learning with Skill Lake's state-of-the-art people development platform. Give your employees professional training to help them excel in their job roles and propel your business to greater efficiency and success.
Start Today