Mobile Learning (mLearning): Ultimate Guide to Mobile ELearning

The growth of technology has profoundly impacted various domains, and among these transformative waves is the resounding buzz of mobile eLearning, or mLearning. It redefines employee learning and offers businesses convenience and cost-effectiveness, trimming the shortcomings of traditional training logistics. It unites teams across geographical borders, fostering collaboration through a standardized learning experience. Businesses that adopt mlearning will stay ahead of technological trends, promote employee growth and ensure organizational success.
In this blog, we will discuss:
     What is mLearning?
     Why Mobile eLearning?
     What are the Common Challenges and Solutions in mLearning?
     How to Design Effective Mobile Learning Experiences? 
Skill Lake LMS: A Perfect Example For Designing Effective Mobile Learning Experiences.
mLearning, or mobile learning, uses mobile devices like smartphones, tablets, and laptops to deliver learning content and training materials, providing learning opportunities to individuals on the go, anytime and anywhere.
Why Mobile eLearning?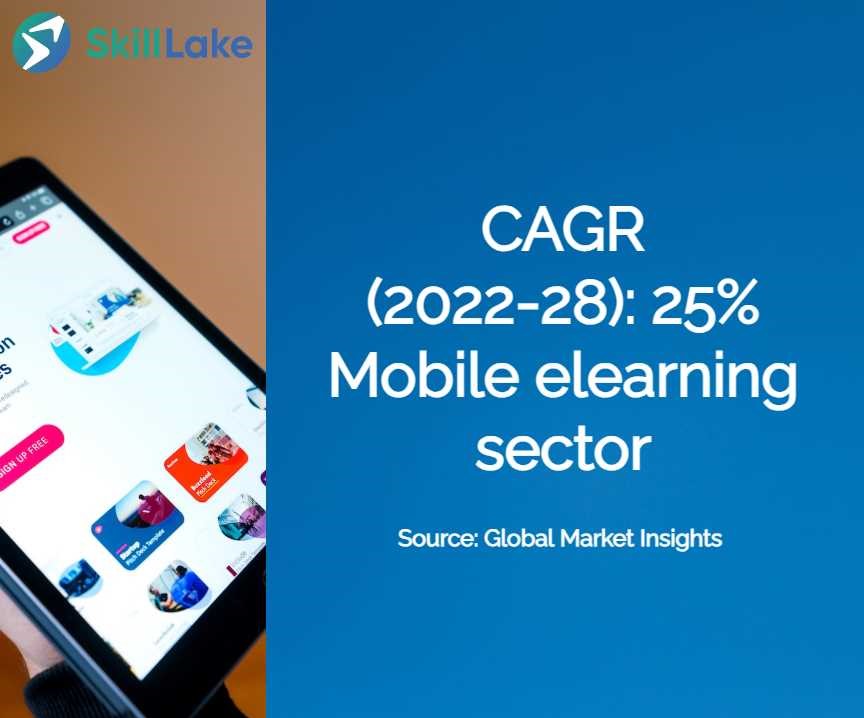 1.  Anytime Learning
Gone are the days when learning was confined to physical locations and dependent on their employer's schedules. With mlearning solutions, the freedom to learn has expanded exponentially. Employees can now engage in learning opportunities as they prefer, at home, during their commute, or at leisure.
2.  Preparation for International Assignments
When assigning employees for international assignments, proper training is required. However, planning and executing activities is more challenging than it seems, and here comes mobile e-learning as an ideal solution giving employees and employers maximum freedom and flexibility. 
3.  Adaptable to Technological Advancements
The rapid evolution of technology poses a high demand for updating skills and expertise. Employees who don't upgrade themselves become "underqualified" or outdated. With mobile learning, employees can become experts in their specific roles.
4. To Meet the Changing Work Trends
Learning experiences that cater to individual preferences take learning and training to a whole new level. Embracing mlearning tools ensures continuous skill development that aligns with work schedules and demands. An example is Skill Lake's LMS system; we will discuss that in detail later in this guide. 
What are the Common Challenges and Solutions in mLearning?
1.  Device and Platform Fragmentation
Device compatibility is a significant concern, and responsive device design techniques are crucial for mlearning. Testing device compatibility and resolution on various devices and operating systems is essential.
2.  Internet Connectivity and Bandwidth
Bandwidth requirements and internet connectivity issues are common, and to overcome this challenge, offering offline access and optimizing multimedia content for streaming at lower bandwidths is essential.
3.  Content Adaptation
No one likes lengthy content hence developing concise, focused, interactive, and easily digestible content on mobile devices will effectively engage learners without overwhelming them.
4.  Security and Privacy Concerns
Safeguarding sensitive data and ensuring user privacy becomes vital in eLearning and mLearning. Complying with data protection regulations and obtaining learners' consent for data collection and usage will build learners' trust and commitment. 
5.  Content Updates and Version Control
Managing content updates and version control across multiple mobile devices can be complex. Implementing a centralized content management system will help to overcome these issues. 
How to Design Effective Mobile Learning Experiences?
A. Responsive Design and Cross-platform Compatibility
    Create mobile learning experiences that adapt seamlessly to different screen sizes and devices.
    Ensure the content remains accessible and user-friendly across various smartphones, tablets, and laptops. 
B. Mobile Learning Content Formats 
Mobile learning content should meet diverse learning preferences. 
    Concise and easy-to-understand text-based content 
    Audio content allows on-the-go learning.
    Video content and interactive elements for better engagement 
C. Microlearning and Bite-sized Content
Microlearning, delivering content in short, focused bursts, is well-suited for mobile learning. Bite-sized modules allow learners to absorb information efficiently during short intervals.
D. Gamification and Mobile Learning
    Integrating gamified elements like points, badges, and leaderboards into mobile learning experiences enhances motivation and engagement.
    Gamification transforms learning into an enjoyable and rewarding experience, encouraging learners to participate and progress through the training actively.
E. Incorporating Social Learning in mLearning
Social learning features enable learners to interact, collaborate, and share knowledge with peers, fostering community and camaraderie. 
Discussion forums, live chat, and group activities promote collaborative learning experiences, enriching mobile learning programs with collective insights and perspectives.
Skill Lake LMS: A Perfect Example For Designing Effective Mobile Learning Experiences.
Skill Lake Learning Management System proves to be a perfect example for designing compelling mobile learning experiences. Are you interested to know how? 
Skill Lake offers:
    AI/ML-powered recommendations for personalized content delivery
    Competency management and mapping for individualized learning plans
    Accountability for people development through time-sensitive competence goals
    SCORM-compliant LMS for hosting and managing SCORM content
    Mobile apps for anytime, anywhere learning and learner engagement
    Gamification features to enhance learner motivation and achievement
    Self-paced and instructor-led learning delivery options
    Lightweight content authoring tools for creating mashups, assessments, and tests
    Robust knowledge repository for single-point course storage
    Learner dashboard for tracking training progress
    User management with organizational hierarchy and performance tracking
    Enterprise IT readiness, customizable to brand and integrable with existing applications
In Conclusion, 
mLearning transforming the way organizations approach employee training and development. By focusing on accessibility, personalization, and engagement, it is now a game-changer in the learning landscape. A shining example of a mlearning platform is Skill Lake LMS which harnesses AI and ML's power to provide a seamless and individualized learning experience. Its competency management, content customization, and gamification features empower organizations to create a culture of continuous learning and professional growth.
Need to embrace the future of learning with Skill Lake and unlock new opportunities for success?
Feel free to connect! 
Build a culture of continuous learning with Skill Lake's state-of-the-art people development platform. Give your employees professional training to help them excel in their job roles and propel your business to greater efficiency and success.
Start Today