Synchronous learning: Is it Suitable for the Modern Workplace?
Wouldn't it be great if you could provide a mentor who can resolve employees' doubts on the spot? 
Yes! An L&D platform can facilitate Synchronous learning or instructor-led training, which is all about instant workplace communication training.
Synchronous training supports information gathering for everyone in your organization at one go, ensuring equity and diversity in the workplace training.
Let's put it this way: An L&D platform at your workplace implies that the learners and the instructors are simultaneously in the same place. It can happen through multiple channels like in-person learning, gamified learning, or video sessions.
How important is synchronous learning in today's workplace? 
Organizations have shifted to hybrid and remote work models, so synchronous online workplace training allows greater employee tracking. Additionally, it has the advantage of providing your employees with equality and diversity in the workplace training and, therefore, emotional belonging to the company and the team
Let us understand more about today's workplace first before we dive deep into synchronous training.
Read more: Employee Reskilling Program: Best Practices For Competitive Advantage
A Look into Today's Workplace
Workplaces are constantly changing, and astute employers always watch the trends. Adhering to workplace trends gives your organization an opportunity to stay innovative and progressive. 
While some trends become business standards, some others change the routine workways. Either way, we say that trying new trends can revolutionize your operations. 
What are the workplace trends shaping the future of work? Here are some:
Remote and hybrid work
Virtual team building 
Flexible working hours and employee wellness
Flexible and multi-functional workspaces
Diversity and inclusion
Continual learning
Online training
Of the above trends, we will narrow down our interests to online training, specifically synchronous training, in this article. 
Let us try to understand if an L&D platform that supports synchronous training is appropriate for today's modern workplace without any further ado.
What is Synchronous learning?
Employees generally tend to have leniency towards synchronous learning. You can ensure that your employees always stay on top of the company policies and new technology updates. Proper synchronous training will have a smart feedback loop that simplifies eLearning for your employees, clients, and partners.
An L&D can support synchronous learning through a multitude of techniques like webinars, virtual classrooms, video content feeds, and more!
Synchronous workplace communication training is advantageous in many ways like the interaction between learners, collaborative knowledge sharing, instant feedback from instructors, and fixed scheduled-based training sessions.
How is it Different from Asynchronous Training?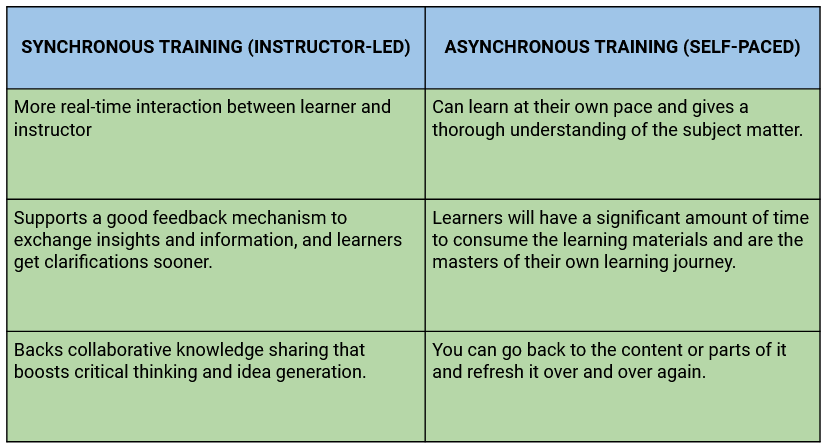 If you have a team working from remote or in hybrid mode, an L&D platform can ensure that your employees get face-to-face training sessions through synchronous training. 
But to understand what kind of online workplace training suits your employees best, it is better to have a learners' assessment. You will find different learner needs, different learning paths, and training needs. Based on these findings, you may choose either synchronous training or asynchronous training. 
Sounds clumsy? 
Not with a resilient L&D platform that offers blended learning!
Read more: Tips For Effective Employee Onboarding
Is Synchronous Learning the Future of Corporate Training?
Synchronous workplace communication training in your company enabled through an L&D platform has the following implications:
Educating a large number of remote learners
Easing your employees' efforts to upskill and reskill
Training from anywhere, anytime, and on any device
Collaborative learning and knowledge sharing
Guiding through practice and application
Completing activities that need direct employee involvement
Clarifying doubts through instant feedback
Doubtlessly, synchronous is one of the appropriate measures that your organization should assume. 
Here is why:
Instructors can use different tools like videos and graphically rich content feeds as part of tiger learning lessons to make learning more efficient.
You can provide consistent formal learning to your employees, thus ensuring that each learner groups receive the same knowledge through their trainer.
With a faster pace of learning delivery, and the ability to handle a larger sample size of learners, synchronous training is more cost-effective than traditional ways.
Your employees will constantly be motivated by communicating their performance levels through an instant feedback loop.
Connect remote learners of your company by providing them with the same learning environment experience.
Your organizational productivity rate will boost as synchronous training supports alternate workforce training like upskilling and reskilling at a faster rate.
Enhance the quality of cultural training in the workplace by promoting collaborative learning.
How can Firms Ensure Effective Synchronous Training with an L&D Platform like Skill Lake?
After all that we have gone through, it is impossible to completely disregard the significance of synchronous online workplace training in the modern world. 
With an L&D platform like Skill Lake that supports blended learning, your organization can learn new abilities and re-learn old skills using new training approaches.
Skill Lake is a smart L&D that can undertake group exercises for your company in instances like onboarding, cohort training, compliance training, client and customer training, and cultural sensitivity training in the workplace.
Skill Lake is designed handy with interesting features to promote a holistic learning experience in organizations. To name a few,
Dual learning modes allow employees to choose their convenient mode of learning between instructor-led or self-paced learning.
Competency mapping to identify key competencies of the organization and the employees and design training programs accordingly.
Mobile learning to facilitate anywhere learning at employees comfort.
Gamification to promote fun and engaging ways of learning for better knowledge retention.
Micro-learning to make complex content simple to understand and easy to absorb for the employees
Skill Lake creates an edge in giving solutions to business situations. Your organization can effectively use it at scale to level up employees and other stakeholders above and beyond the expected levels of performance. 
Talk to our team or take a free demo to experience the features of our learning and development platform.
Build a culture of continuous learning with Skill Lake's state-of-the-art people development platform. Give your employees professional training to help them excel in their job roles and propel your business to greater efficiency and success.
Start Today