E-Learning Platform Requirements: Checklist for Corporates

"An organization's ability to learn, and translate that learning into action rapidly, is the ultimate competitive advantage." – Jack Welch, former CEO, General Electric
Every forward-looking organization, regardless of their size and scale, aims to build and retain a competent, future-ready workforce. With a corporate learning management system, you can train employees faster, deliver the knowledge and skills they need to perform their roles, and ultimately stay competitive and relevant in a fast-changing work world. Let's explore the topic E-Learning Platform Requirements: Checklist for Corporates.
A corporate LMS simplifies and streamlines your organizational training management by automating routine activities and saving your team's time and effort. However, the final outcome will depend on the corporate LMS platform you choose.
There are more than hundreds of eLearning platforms in the market today and weighing up each one is a daunting task. To help you nail down the selection, we have prepared a list of common learning management system requirements.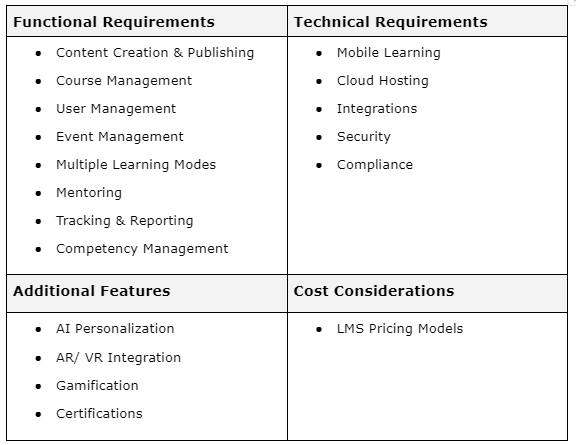 Functional Requirements
Functional requirements or features are the most important element of a corporate LMS platform. These features provide the LMS capabilities that learners, administrators and instructors need to succeed. Here is a list of functional requirements to consider when choosing a corporate LMS.
Content Creation and Publishing
Before choosing a corporate LMS, you need to decide what kind of training materials you will offer to employees and whether you will create courses internally, or not. Make sure the LMS supports all your course creation, publishing, and delivery requirements. 
Look for a corporate LMS that offers:
    User-friendly content authoring tools to create, publish, and manage eLearning content and course materials with ease
    A course library to store and retrieve all your eLearning content easily
    Reusable content/ course templates that can be used/ updated to train multiple batches of learners
    Create and offer multiple formats of eLearning content, including videos, text, images, documents, audio clips, and more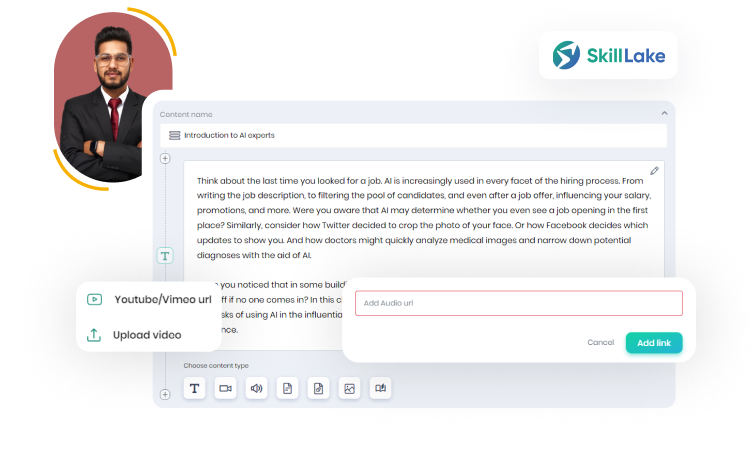 Course Management
The corporate LMS should allow your L&D course administrators to:
    Schedule courses
    Set up the course structure (flexibility to add any number of units)
    Limit courses to closed groups
    Allocate trainers
    Track learning progress
    Provide course completion certificates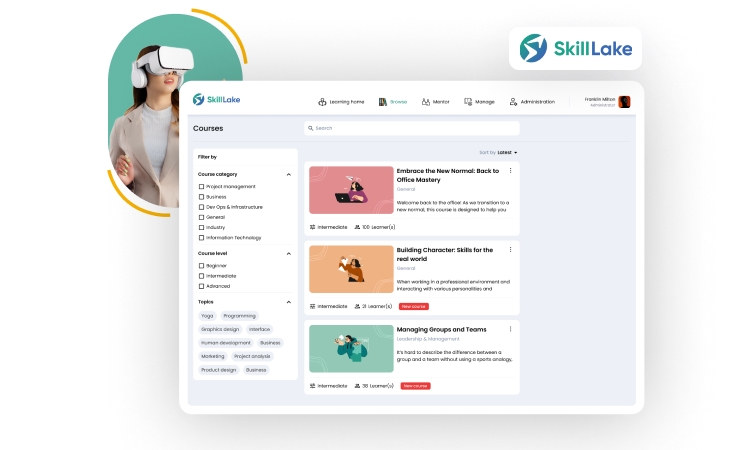 User Management
The eLearning platform should offer you the flexibility to define user roles and permissions based on the organizational hierarchy, create learning groups, manage learners and more. Check whether the eLearning platform allows you to perform the following functions. 
    Sanction user privileges for mentors (trainers) and mentees (learners) based on your organizational hierarchy
    Map learners (employees) to their departments and reporting managers 
    Set up custom roles with custom permissions
    Provide secure access control for users
    User management features fully controlled and centrally managed by your organization
Event Management
Your company may be offering various corporate training events for employees and sales partners. Make sure you choose an LMS platform that allows you to centrally manage all the events and registrations and also helps increase the events' awareness, engagement and attendance.
    Centrally manage and schedule your corporate training events such as webinars, live sessions, video conferences, etc.
    Manage event registrations and schedules and send reminders to attendees
    Deliver your training events (virtually) through the corporate LMS platform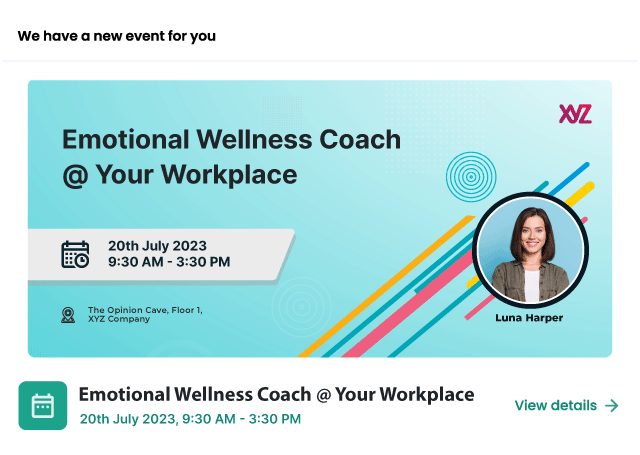 Multiple Learning Modes
Traditional corporate training methods, such as in-person lectures and on-site education often eat up large chunks of employee time, eventually reducing their knowledge retention and performance. 
By adopting a corporate LMS that supports multiple learning delivery modes, you can empower employees to lead learning on their own. Check whether the LMS facilitates these learning modes: 
     Instructor-led training: In this model, learners and instructors can interact and discuss the training material, either individually or in a group setting. Instructors may deliver training in a lecture or classroom format, or even virtually, using video conferencing tools. 
    Self-paced learning: In this model, learners progress through the training material at their own pace and on their own schedule. The content can be corporate training, technical tutorials, or any other subject that does not require the immediate intervention of an instructor. 
    Blended learning: Also known as hybrid learning, this approach combines online learning materials and online interaction opportunities with physical location-based classroom methods. 
    Microlearning: This learning strategy focuses on breaking down complex concepts and topics into bitesize training modules that are easy and quick for learners to consume. Examples include short and snappy quizzes and one-stop scrolling pages. 
    Synchronous learning: Synchronous learning refers to a learning event in which learner(s) and instructor(s) are in the same place, at the same time, in order for learning to take place. Live online meetings and live interactions or discussions are examples of synchronous learning. 
    Asynchronous learning: This approach constitutes instruction and learning that do not happen in the same place or at the same time. Examples include watching pre-recorded training lectures or demo videos.   
Mentoring 
The corporate LMS should allow you to map each employee to a suitable mentor who can monitor the learning progress and provide regular feedback to boost knowledge retention and learning accountability. 
Look for a corporate LMS that enables you to:
    Assign Mentors or Coaches to leverage specialized knowledge or provide extra support to your learners
    Directly map subject matter experts to learners to facilitate personalized learning and guidance
    Mentors can share knowledge, provide continuous feedback through learning journals, suggest courses, and monitor the progress of their mentees regularly. 
Tracking & Reporting
An LMS platform that supports eLearning tracking and progress reporting will allow you to monitor how particular employees performed in training sessions and post-lesson assessments, without the hassle of paper reports and daunting spreadsheets. 
Make sure you can do the following with the LMS you're planning to adopt:
    Create customizable dashboards and progress reports displaying real-time insights on every aspect of employee learning
    Track course attendance, module-wise progress, course completion, and learners' performance
    Connect your corporate LMS with third-party analysis tools to derive actionable insights on learning progress and employee performance    
Skill Development & Competency Management
The best corporate LMS equips your workforce to meet the rising business needs by allowing you to measure employees' competencies, understand what skills they lack, and personalize your corporate training programs to upskill your team. 
Check whether the eLearning platform assists you with these competency management tasks:
    Evaluate the competence levels of your employees with custom graded assessments at individual, department, organization, and intermediate levels
    Assign mentors who can set and track time-sensitive competence development goals for your learners to foster learning accountability
    Allow mentors to identify skill gaps and specific areas that need to be improved 
    Suggest courses and training content that mentors can recommend to their learners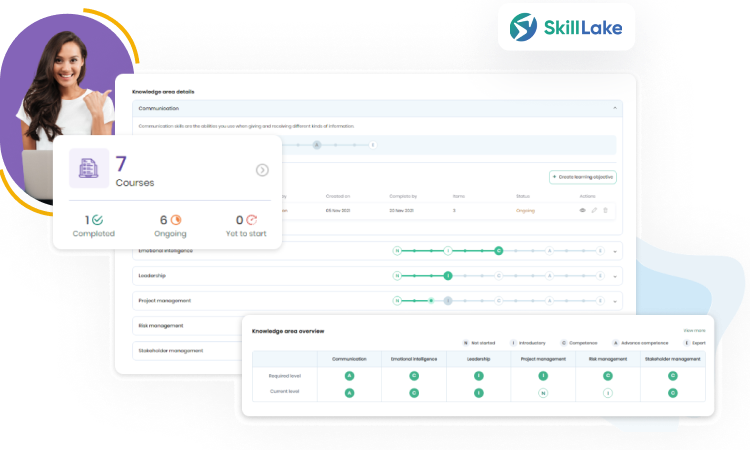 Technical Requirements
Mobile Learning
A mobile-ready corporate LMS makes your training courses accessible to all your employees, and supports them to continue learning outside your organization's working hours. 
Anytime-anywhere, just-in-time mobile learning will engage employees and provide scenarios that contextualize learning to be applied in their real-world job roles. 
Use the following questions to analyze the mobile learning features offered by a corporate LMS:
    Does the corporate LMS provide intuitive and secure mobile apps for learners compatible across multiple platforms and operating systems, such as iOS and Android?
    Does the mobile LMS app allow users to quickly find and enroll in courses all by themselves?
    Does the mobile app allow employees to complete learning from anywhere, at their own pace? 
    Does the mobile app use technology to deliver customized learning feeds that match the interests, job roles, and skills of your learners?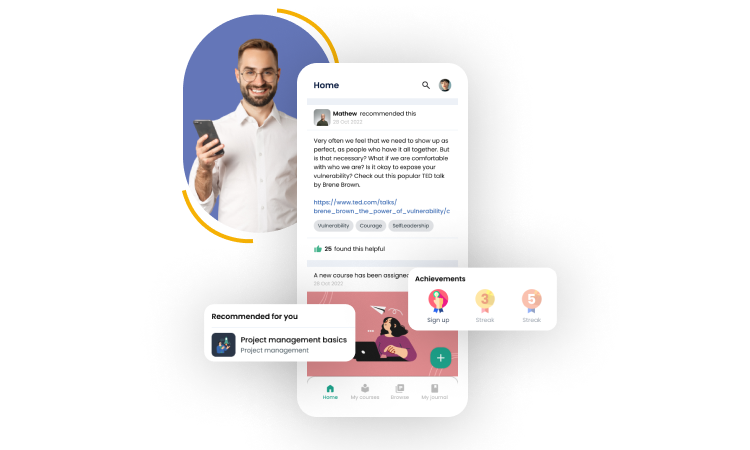 Cloud-Hosted Solution
A cloud-based corporate learning management system hosted on the web minimizes your deployment effort and allows you to get started immediately. 
Cloud-hosted LMS platforms are specifically designed to comply with your company's existing network and software architecture. They can be accessed anywhere, anytime, using any device, so you can centrally review all the information you need.     
Choose a corporate LMS platform that can be deployed instantly on your private server or a public cloud server of your choice. 
Integration With Other Platforms
A corporate LMS that integrates with third-party learning content and delivery platforms like Udemy, LinkedIn Learning, Coursera, etc. will allow your employees to access internal and external courses and learning materials in one place. 
Similarly, the ability of the corporate LMS to integrate with other business applications used by your organization, such as CRM, ERP, accounting software, HRMS, etc. will let you access and manage all the information in one place, without juggling multiple applications. 
Security
Find out whether the corporate LMS offers robust built-in security measures to ensure your organization's content security and ownership, and protection of sensitive data, assets, and user information. This is highly important when you choose a third-party provider for hosting and distributing eLearning content and course materials. 
Check whether the LMS comes packed with these in-built security measures:
    Encrypted passwords, walled communities, authenticated resource access, secure profiles, secure messaging, communications monitoring, secure storage, and secure servers to protect the LMS users and their resources.
    Check whether the LMS provider offers the essential support and tools for conducting regular security audits and running daily scans to automatically detect and report security issues.
    Measures opted by the LMS provider for fixing/ troubleshooting the reported bugs and errors without extended delays.
    Understand if the LMS allows your administrators to prevent selected users (such as resigned employees) from logging into the LMS, revoke their access rights, or delete their profiles entirely if necessary. 
    Review the official privacy policy of the LMS provider to understand their policies and procedures related to the collection, use, and disclosure of personal information gathered from visitors and registered users. 
Compliance
Most organizations require content standardization, so that courses are delivered consistently across systems and devices. SCORM, for example, is one of the most widely accepted eLearning standards which helps ensure that your e-learning content works seamlessly across different devices and platforms. The most prevalent versions of SCORM are SCORM 1.2 and SCORM 2004. 
Here are a few things to look for when choosing a SCORM-compliant LMS:
    Which SCORM versions are supported by the LMS? Is there any preferred SCORM edition with which the LMS works best? 
    What level of SCORM Runtime Environment is supported by the LMS?
    How long ago was SCORM integrated with the LMS? The older the integration, the fewer the bugs. 
    What kind of reports are available in the LMS for SCORM courses and how are the reports presented in a SCORM training course?
    Does the LMS offer any tools for content updates that help preserve previous statistics?
    How is the content of SCORM-compliant LMS imported? Is there any content version control system? 
    How is user data submitted to the LMS while viewing eLearning courses?
    Does the SCORM LMS need any plugins or extensions to function?
    What are the debugging mechanisms offered by the LMS to cover data loss or other unexpected problems? 
Additional Requirements
Modern corporate learning management systems typically have many extra options to promote a sense of learning accountability among your employees. Some of the additional options to consider in a modern LMS are:
AI-Based Personalization
A corporate LMS that automatically recommends courses or delivers content personalized to your learners will save your time and effort considerably. 
AI and ML-powered course recommendations place personalized content in front of your employees. 
If you want to accelerate the discovery of relevant training content and subsequently promote better learner engagement, choose an AI-powered LMS. 
AR/ VR-Based Training Programs
AR/ VR technologies allow you to create 3D virtual experiences and training simulations that make your courses more interactive and immersive.
Mandatory employee training programs, such as HR processes, occupational health and safety, cybersecurity, ISO, and other dreary content can be made more interesting and meaningful for employees through AR and VR integration. 
If you want to create highly-enticing and interactive content that makes learning more interesting and fun for your workforce, choose an AR and VR-integrated eLearning platform. 
Gamification
Gamification in corporate learning will encourage learners to cross more milestones that positively impact their career growth and skill development. This, in turn, leads to improved employee performance, greater application of learning in upcoming projects, and increased knowledge retention. 
If you are choosing an eLearning platform that supports learning gamification, you need to look for the following features:
    Does the LMS allow you to engage and incentivize learners with virtual incentives, badges, and points?
    Does the LMS support microlearning to boost learner engagement and attention?
    Does the LMS help deliver gamification on mobile devices in formats that can be appealing to learners?
    Does the LMS enable you to set up challenges (puzzles, mockup quizzes, short games, etc.) and prizes for learners at specific intervals?
Certifications
Several corporate LMSs automatically issue certificates to learners after they complete a course or a test. Rewarding employees with course certificates is a great way to motivate learners. 
Companies that are into corporate or organizational training business can leverage the certification feature of the LMS to provide learners with professional certifications. 
Cost Considerations
When preparing a list of learning management system requirements, you cannot ignore the financial aspect. According to a report by Capterra, "people spend 59% more than they expect to on their Learning Management System". 
It's important to consider the implications of different pricing models and choose the best LMS that matches your company's L&D needs. Top LMS pricing models are listed here:
    Pay per learner: This plan is suitable for your organization when the number of learners is stable and your training requirements are obligatory.
    Pay per active user: If you need to conduct one-time training or add temporary users, or if you want to evenly spread training for multiple batches of learners throughout the year, it's good to opt for this plan. 
    Pay as you go: If you are not sure whether there will be a consistent demand for learning, choose this option to pay only for what you use. 
    Subscription/ license fee: This plan is suitable for large organizations with more users. The license or subscription fee is set periodically (for a year/ for six months, etc.) based on the included features.   
    Free and open source LMS: This plan allows you to avoid vendor lock-in. However, you need to hire a team of IT professionals to customize and maintain the LMS. Though open source LMS access is free, you will have to spend more on setting up the LMS with features tailored to your needs.    
Next Steps
Once you have created a list of eLearning platform requirements, the next step is to choose an LMS that matches your needs. Here are the initial steps to take up when considering a corporate learning management system:
    Understand your challenges and identify your needs
    Know your target audience (LMS users)
    Define your learning management system requirements
    Shortlist and evaluate the LMS solutions and vendors in the market, including their pricing plans and features
    Test the LMS, or ask for a use case or demonstration
    Finalize the LMS that ticks all your checkboxes
Choosing a corporate LMS can seem quite intimidating, but following this checklist will definitely simplify the task. Keeping all of these helpful tips in mind will allow you to avoid a costly trial-and-error process. 
Are you looking for a corporate eLearning platform that's modern, powerful, and easy to use? Try Skill Lake LMS now! 
Build a culture of continuous learning with Skill Lake's state-of-the-art people development platform. Give your employees professional training to help them excel in their job roles and propel your business to greater efficiency and success.
Start Today