Bridging Skill Gaps with Learning Management Systems in 2024
The skill gap among employees will affect the organization's growth and employees' competitiveness. Bridging the skills gap through adequate training and upskilling initiatives helps organizations overcome consequences like low employee performance and customer satisfaction.
According to Gartner research, the overall number of skills necessary for a single job has increased by 10% yearly. In addition, in five years, one-third of the talents of today will become outdated.
One of the effective tools organizations can rely on for employee upskilling is Learning Management Systems (LMS). This cost-effective and comprehensive solution allows employees to foster continuous learning, ensuring uninterrupted business growth and employee well-being.
In this blog, we will discuss,
     Skills Gap – What It Is, and Why Does It Matter?
     The Importance of Upskilling Employees
     5 Steps to Bridge the Skills Gap
     Role of Learning Management System(LMS) in Skill Gap Management 
     Skill Lake: The Ideal Choice for Effective Upskilling 
Skill Gap: What is it and Why Does it Matter?
The skill gap is any discrepancy between the skills required and those possessed for a specific job. If organizations and employees fail to bridge the skills gap, it will affect employee productivity, business revenue, and customer satisfaction. Upskilling is one of the viable and practical approaches to address the training gap.  
The Importance Of Upskilling Employees
Upskilling is a process, like corporate training programs, that allows employees to learn or improve their skill sets for the ever-growing organizational needs and technological advancements. It focuses on enhancing the skill sets through training programs, helping them improve their skill set to unlock more excellent opportunities. 
Upskilling is important for the following reasons:
1. Increased Employee Retention
When employees get upskilling opportunities, they develop a stronger connection to the company, feel more valued, and consider it as a platform for personal and professional growth.
2. Saves Time, Money, and Resources
Employees get better growth opportunities, enabling them to take on additional responsibilities. Organizations can thereby save time and avoid extra expenses incurred with new hires.
3. Attracts New Talent
By providing opportunities for skill enhancement, organizations can attract new talents looking to expand their skill set and stay updated.
4. Boosts Workplace Morale
Offering diverse learning and development opportunities improves workplace morale and job satisfaction and creates a positive employee outlook.
5 Steps to Bridge the Skills Gap
Skill management is crucial to overcome skill gaps and ensure the workforce remains competitive.
1.  Conduct  Skill Assessment
Analyze employee skill sets using skill assessment and understand the areas that require upskilling.
2. Create Personalized Learning Paths
Based on the skill assessment and employees' interest, create tailor-made training plans to bridge the gap. 
3. Implement Learning Management Systems (LMS)
Use LMS to deliver the right learning experience to people in the most suitable format.
4. Offer Continuous Upskilling Opportunities
Provide upskilling and reskilling opportunities to become competent in emerging trends and technologies.
5. Foster Learning Culture
Encourage employees to embrace continuous learning and skill development for their professional growth.
The Role Of Learning Management System(LMS) In Bridging Skill Gap 
Learning Management Systems (LMS) are software systems that develop, share, and manage educational and training content. With the support of these platforms, skill development has gone from being a fixed, one-time event to a changing, ongoing process. An example of a perfect learning management system is the Skill Lake platform.
The Features and Benefits an Ideal LMS Offers:
1. Personalized Learning Opportunities
It can be tailored to people's needs, jobs, and skill levels, increasing output, engagement, and job satisfaction. 
2. Flexibility and Convenience
Thanks to the learning materials, which are easily accessible anytime. It helps employees to upgrade their skills without interfering with their job or personal lives. 
3. Actionable Insights from Analytics
LMS analytics offer helpful information to pinpoint skill gaps and give learners individualized feedback, thereby gauging the success of training programs.
4. Seamless Integration 
Integrating smoothly with several platforms enables comprehensive employee administration and tailor-made planning.
5. Cost-effective
An LMS helps to save on various traditional training-related expenses like resource fees, travel and accommodation costs, and more.
Skill Lake: The Ideal Choice For Effective Upskilling 
Skill Lake is a corporate learning and development platform that fosters an employee-centric learning culture. It goes beyond conventional training approaches and facilitates holistic learning experiences.
The platform offers a range of benefits:  
1. Drive Business Growth.
Personalized training cultivates a knowledgeable and effective team, resulting in successful problem-solving and increased ROI.
2. Promote Learning Accountability
Increase program transparency, spot skill shortages, and promote a feeling of accountability among staff. Utilize interactive modes to deliver complex content for better learning and improved knowledge retention rate. 
3. Provide Flexible Learning Opportunities
Offer learning flexibility, such as synchronous, asynchronous, or mixed learning, depending on the nature of the course and the trainer's availability. 
4. Knowledge Repository For Easy Reference 
The user can create a searchable course library and standardize the learning materials for quick access and easy reference, allowing employees to attain knowledge from anywhere possible.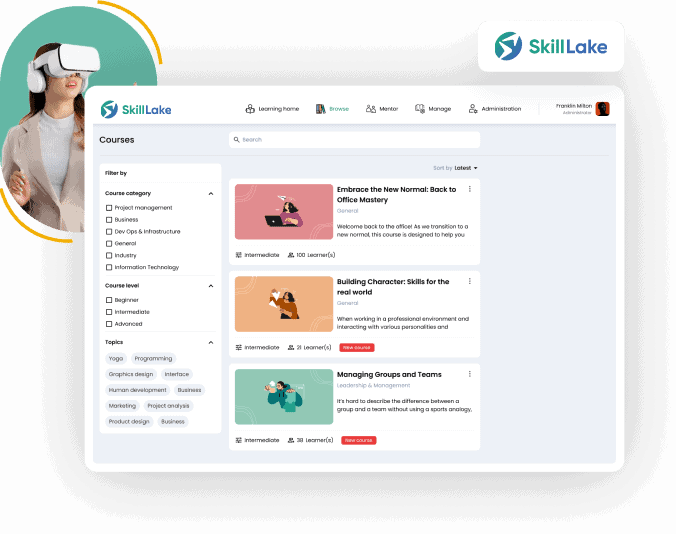 5. Motivate employees To Do Better
Allows mentors to utilize gamified badges and certificates to encourage employees to learn more and enable a skilled workforce with consistent and successful training.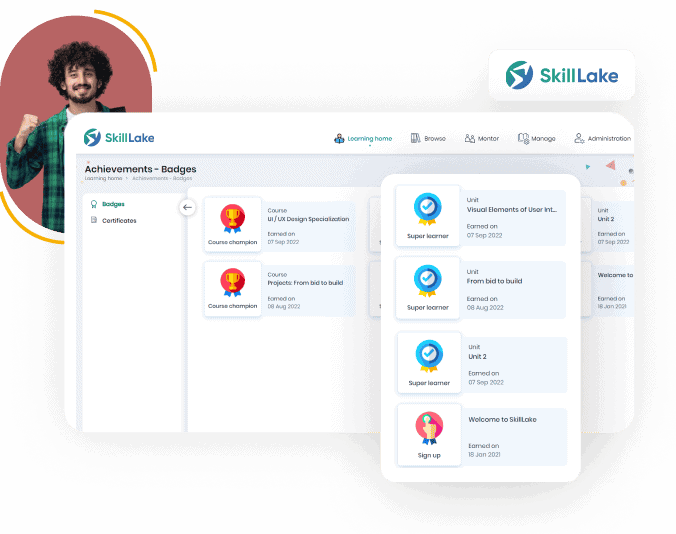 Final Thoughts: 
Bridging the skills gap is crucial to achieving corporate success. Organizations looking to solve the skills gap can use Skill Lake, the comprehensive corporate learning and development platform. The platform facilitates continuous learning and growth, actionable insights, and a collaborative learning environment. This will help to accelerate company growth, improve employee retention, and maintain competitiveness in the ever-changing business environment.
Would you like to explore the possibilities of Skill Lake in bridging the employee skill gap? Connect with our experts today or request a free demo!
Build a culture of continuous learning with Skill Lake's state-of-the-art people development platform. Give your employees professional training to help them excel in their job roles and propel your business to greater efficiency and success.
Start Today