A New Normal : Navigating The Return To Office

A number of CEOs, leaders and managers want all employees to return to office. But a workforce now habituated to remote work is pushing back. This article explores strategies and methods that CHROs and HR professionals can apply to navigate a back to office transition effectively. These include techniques to set clear expectations,  foster communication, empower employees, promote collaboration and socialization, and embrace a culture of recognition and celebration.
Introduction
First the global upheaval caused by the pandemic, and now the unpredictable business environment marked by high inflation, geopolitical issues, and an ongoing economic quagmire. Over the last years,  businesses of all sizes have grappled with unprecedented challenges. Remote workforces were adopted, new business models were tested. However, as we move beyond the pandemic's peak, attention now turns towards the "new normal" – a phrase that pervades boardroom discussions, media headlines, and watercooler conversations.
For many businesses, especially for Small to Medium-sized Businesses (SMBs) dominated by white collar workers, the new normal entails reimagining how, where, and when work is done. While the COVID-19 crisis catalyzed a vast work-from-home experiment, we're now entering a phase where companies are rethinking their remote work policies, contemplating a return to the office and grappling with the reality of managing hybrid work culture.
With all eyes firmly focused on fiscal health, a significant number of leaders and managers are championing the cause for a return to office. On the other hand, a workforce now habituated to remote work is pushing back against the shift from virtual to physical. Finding themselves in the proverbial rock and a hard place are the Chief Human Resource Officers (CHROs) and HR professionals, walking a tightrope, balancing the edicts of leadership on one hand and the rebellion of a disgruntled workforce on the other.
The task ahead is formidable and the pressure immense. But, with every challenge comes an opportunity to innovate, grow, and reimagine. 
In this article, we explore strategies to navigate a back to office transition effectively. From understanding the new normal, setting clear expectations,  fostering communication, empowering employees, promoting collaboration and socialization, and embracing a culture of recognition and celebration. Each element plays a crucial role in shaping a positive, productive, and resilient post-pandemic workplace.
This exploration is based on the insights gleaned from various international surveys, research findings, expert opinions and practical experiences. We hope that these insights will provide useful guidance for you and your team as you embark on this journey.
Setting Clear Expectations and Open Communication
As we embark on the transition back to the office post-pandemic, the establishment of clear expectations and open lines of communication becomes fundamental. In this transformative phase, ambiguity can breed anxiety, making it crucial for leaders to articulate the reasons behind the return and effectively communicate the benefits of an office environment.
Take inspiration from Simon Sinek and "Start with Why." Articulate why the return to the office is necessary for your organization. Is it to foster innovation through spontaneous collaboration, onboard new people faster, embed values and culture, create a sense of unity, or accommodate clients who prefer face-to-face interactions? The reasons may vary, but they must be clear and compelling to garner employee support.
Once the reasons are well-understood, the next step is to set clear expectations for the office return. This includes everything from new office hours and meeting protocols to the revised use of communal spaces and the expectations for team collaboration. Employees should know what is expected of them and what they can anticipate from the organization in this new phase.
A robust communication strategy is critical to this process. Leaders should utilize various channels and formats – emails, newsletters, webinars, town halls, and one-on-one meetings – to relay information consistently. Many of these channels should also be used to hear from employees. Listening to team feedback, understanding their concerns, and addressing them promptly and transparently can bolster trust and confidence during this transition.
Communication is not a one-way street. Leaders should create an environment that encourages dialogue. Are your teams comfortable voicing their concerns? Are there mechanisms in place for them to share their feedback, both positive and negative?
In conclusion, transparency and empathy should underpin all communications during this shift. Reflect on the effectiveness of your communication:
     Have you effectively communicated the reasons for transitioning back to the office?
     Have you set clear expectations for your teams?
     Are you open to feedback, and do you address concerns promptly?
Understanding and Balancing Employee Needs
Remember, this transition is not just about the organization, but also about individuals whose lives, personal responsibilities and routines have completely transformed over the last years. Understanding and addressing their concerns will not only create a sense of belonging but also help tailor strategies that make this transition smoother.
Returning to the office is not a one-size-fits-all solution. Each employee's circumstances are unique—some may have caregiving duties, health concerns, or long commutes, while others may thrive in the office environment. Some may need location flexibility, while for other schedule flexibility may help ease the transition.
Focus on Inclusion. Rather than simply offering identical resources to all, the focus should be on crafting solutions that cater to the individual needs of each person. This could encompass initiatives such as flexible work hours, remote work opportunities, or assistance with childcare. By cultivating an environment where everyone feels acknowledged, respected, and supported, we can facilitate a smoother transition for all individuals involved.
Involving employees in decision-making is one effective approach. Their input, preferences, and suggestions can guide the formation of balanced policies. It helps not just to understand their needs better but also fosters a sense of ownership in the transition process. Ask them: What kind of office environment will help them perform their best? What types of work or interactions do they believe need to be in the office? And how can a balance between office and remote work be achieved during the transition?
Emotional reactions are another vital consideration during this transition. Different people may react differently – with excitement, anxiety, anger, or sadness. As leaders, acknowledging these feelings, displaying empathy and compassion, and providing support and resources can ensure a smoother transition.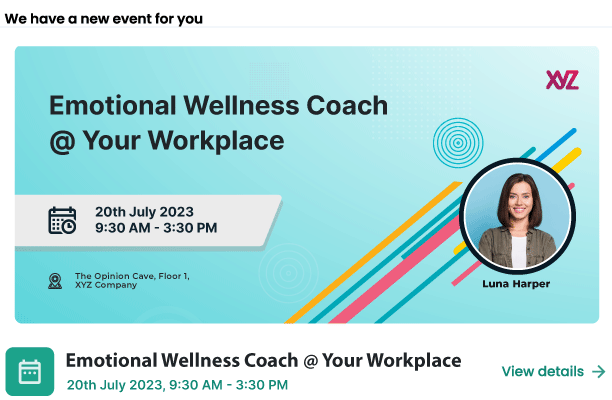 An upcoming event displayed on the Skill Lake Learning & Development platform
Lastly, fairness is paramount. While accommodating every individual preference may be impractical, a fair process that transparently considers everyone's needs can enhance employee trust and acceptance of final decisions.
To sum up, understanding and balancing employee needs require a careful, empathetic, and inclusive approach.
     Have you taken steps to understand the diverse needs of your employees?
     Have you incorporated their feedback in decision-making?
     Have you been fair and transparent throughout the process?
Promoting Collaboration and Socialization
As organizations transition back to the office, there's more to it than merely focusing on tasks and responsibilities. Collaboration and socialization form the bedrock of a vibrant workplace and can foster a sense of unity and collective identity that's harder to achieve in remote settings.
Encourage interactions that are both formal and informal, work-related and personal. Physical spaces can be designed to support various types of work and interactions, like focus work, collaboration, socialization, and learning. For instance, shared spaces for team collaboration, quiet zones for deep work, and common areas for informal socializing may encourage people to feel positive about coming back to work.
Events, Trainings and activities that bring people together are an excellent means of fostering socialization and collaboration. They can range from team lunches, happy hours, games, training sessions, workshops to cross-team projects and initiatives. Encouraging communication and cooperation between teams can stimulate creativity, innovation, and a sense of community.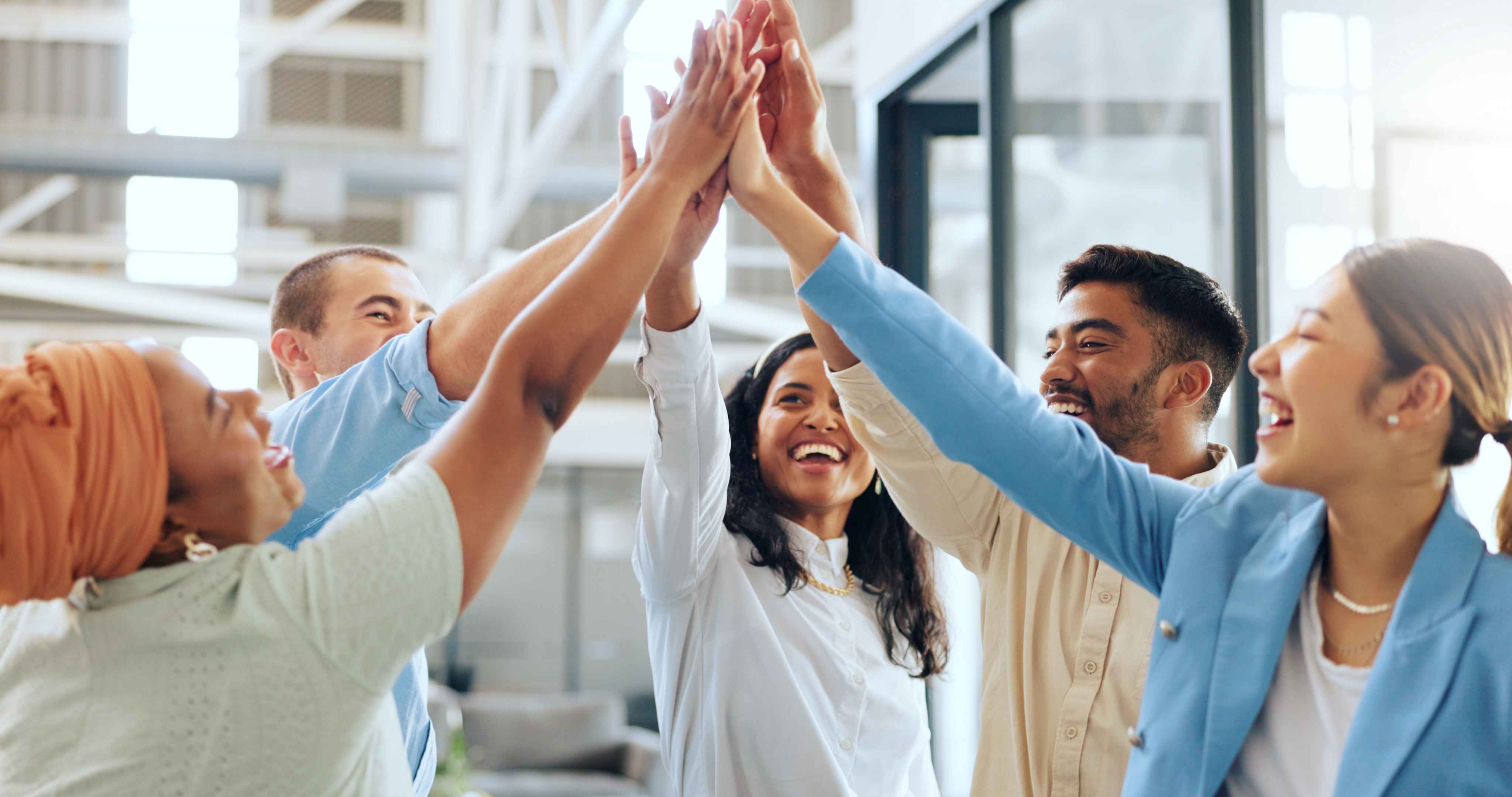 The office culture also plays a key role. A culture that values trust, autonomy, inclusion, and recognition can make the office a more appealing place. Ask: Are we setting clear goals and expectations? Are we giving employees more autonomy over work? Are we promoting diversity and belonging among employees?
Finally, think of the office as more than just a physical workspace. It's a place to collaborate, learn, socialize, and celebrate. 
To recap, promoting collaboration and socialization in the return-to-office strategy can be transformative. As a leader, consider:
     Are we designing spaces that support diverse work modes?
     Are we fostering socialization and collaboration?
     Are we making the office more than just a place to work?
Embracing a Culture of Recognition and Celebration
Recognizing and celebrating accomplishments is more than just a morale booster – it is essential to building a positive and engaging work environment. As we transition back to the office, it's time to double down on these practices and use them as effective tools to navigate the change.
Firstly, acknowledging team achievements and individual efforts is crucial in the post-pandemic work setting. In an era marked by resilience and adaptability, leaders need to show appreciation for the steadfast spirit of their teams. Ask:
     Are we acknowledging efforts, rewarding results, and providing constructive feedback and development opportunities?
Secondly, celebrating small and big wins has to be an ongoing process rather than an occasional event. Celebrations should permeate everyday work life in the office space, forming a continuous thread of positivity and recognition that motivates and inspires employees.

Continuous feedback captured on Skill Lake Learning & Development Platform
Finally, encouraging teams to learn from their experiences and identify areas of improvement and growth fosters a culture of continuous learning and development. These learnings could be from accomplishments, but equally important are the lessons learned from challenges and setbacks. 
In conclusion, cultivating a culture of recognition and celebration is more than just acknowledging achievements; it is also about learning from the journey. And nurturing an environment where people are valued and appreciated, fostering a sense of belonging that enhances engagement, productivity and job satisfaction. Ask:
     Are we fostering a learning environment?
     Are we using experiences as stepping stones for improvement and growth?     
     Are we embracing a culture of recognition and celebration in our transition back to the office?
     Are we celebrating not just the wins but the journey as well?
Conclusion
As we've explored, the return to the office post-pandemic is not about turning back the clock or restoring old ways. Instead, it's an opportunity to learn from our experiences during the pandemic and redefine the future of work for the better. A chance to create a more flexible, more inclusive, more resilient, and more human-centered work environment.
As a CEO, CHRO, or HR professional, you play a crucial role in leading this transition. Your leadership style, your strategies, and your policies can shape the work experiences and well-being of your employees during this transition and beyond. Remember, the transition back to the office is a journey, not a race. It's a process of continuous learning, adaptation, and growth.
Listen to your employees, give them the flexibility and autonomy they need, create a  work model that suits your organization, foster a culture of collaboration and socialization, and embrace a culture of recognition and celebration. In the end, it's about people and results – not places or policies.
The new world of work is still being written, and we have the unique opportunity to shape it in a way that aligns with our values, supports employees, and drives our organizations forward. So, let's seize this opportunity to create a new normal that works for everyone.
In conclusion, we hope this article has offered you some valuable insights and guidance for navigating the return to the office and shaping your new normal. Remember, your organization's journey will be unique, but by staying focused on people, purpose, and possibilities, you can navigate this transition successfully.
Related Reading: Top 5 Priorities For CHROs During An Economic Downturn
Build a culture of continuous learning with Skill Lake's state-of-the-art people development platform. Give your employees professional training to help them excel in their job roles and propel your business to greater efficiency and success.
Start Today